Beautiful skin is always in and it's more achievable than you think!

The first step in building a great skincare routine should be consulting your Esthetician to find the best skincare products for your skin type.
These products should include a moisturizer, a daily cleanser, and clinical-grade exfoliation treatments that remove skin cell buildup. One of the best ways to reveal more youthful skin is a professional spa treatment known as dermaplaning.
Changes Salon & Day Spa in Walnut Creek, CA offers 30 and 60-minute dermaplaning services for residents and visitors of the Greater San Francisco Bay area. Before booking your skincare appointment, learn more about the benefits of dermaplaning and regular exfoliation treatments with a skincare expert.
What is Dermaplaning?
Dermaplaning is a skincare service that utilizes a special surgical-level instrument to shave away hair and dead skin from the uppermost layers of your skin. This exfoliating technique is considered painless and should always be performed by a licensed esthetician.
A trained esthetician uses a special tool that looks like a scalpel to shave away the hair and dead skin cells on the face or body. Most people feel fresh and ready to face the world immediately following a dermaplaning treatment, although some may experience redness that fades quickly. As with other exfoliating treatments, the skin will be more exposed afterward and therefore more sensitive to sun exposure. Always wear an SPF 30 or higher after a dermaplaning appointment.
In an interview with Cosmopolitan, plastic surgeon Dr. Melissa Doft recommends scheduling dermaplaning appointments at least a month apart, as the results of dermaplaning can last up to four weeks.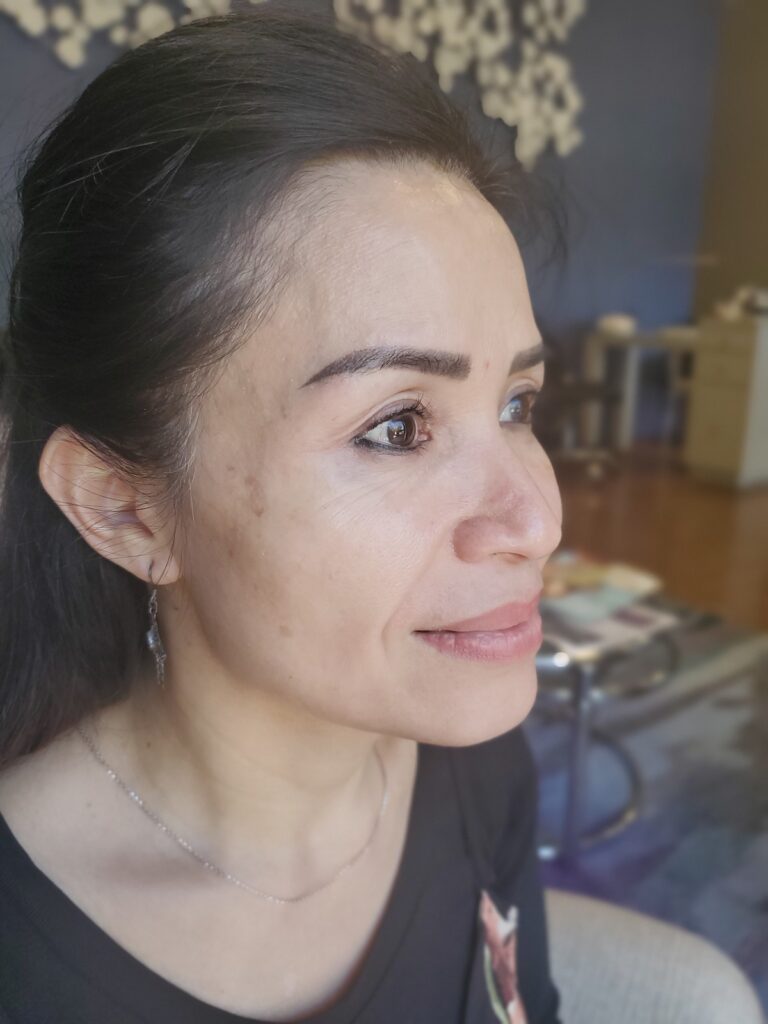 Who Should Book a Dermaplaning Treatment?
Amazing skin isn't just for celebrities. Dermatologists from Brydie recently revealed Hollywood's best-kept skincare treatment—dermaplaning. Because dermaplaning effectively treats so many skincare concerns, you may consider this excellent treatment if you have:
Acne scars
Actinic keratosis
Dull or dry skin
Peach Fuzz
Sun-damaged skin
Fine lines & wrinkles
The Cleveland Clinic confirms that dermaplaning is a minimally invasive cosmetic procedure that is provided by a skincare professional. There is virtually no downtime following treatment, although some people may experience redness or irritation. If you have serious concerns, be sure to consult with your healthcare provider.
What are the Benefits of Dermaplaning?
The act of physically exfoliating your skin removes about three weeks' worth of dead skin cells from the top layer of your skin. This makes your skin instantly supple and soft. Dermaplaning will also remove hairs ultra-close to the skin, revealing a smoother surface for weeks.
Dermaplaning treatments are also known to:
Stimulate blood flow
Improve dull skin
Soften acne scars
Minimize fine lines & wrinkles
Estheticians recommend booking dermaplaning facials prior to undergoing other anti-aging treatments because the benefits will be more effective. The 60-minute dermaplaning service at Changes Salon and Day Spa also includes Cosmedix Metabolic Peels and our soothing Jelly Mask for maximum absorption and ultimate hydration.
Where to Book Dermaplaning in Walnut Creek
Whether you're a local living near Walnut Creek or in the Bay Area for the first time, the best place to book dermaplaning and other salon and spa treatments is at Changes Salon & Day Spa. An hour (or more) of pampering at our zen-like facility can do your skin, hair, and body immeasurable good. Our highly-trained team is built around certified estheticians and skin care specialists who are passionate about creating customized skincare solutions for every client.
Ask about achieving younger-looking skin through Dermaplaning when you call to book your next skincare appointment with the award-winning Changes Salon and Day Spa!

Latest posts by Riley Glowatch
(see all)