Changes Signature Facial
Treat your skin to a thorough analysis and customized treatment. Experience the best in skin care accompanied by our Signature Botanical footbath, calming shoulder, neck and foot massage, and heated booties. Complete with fruit enzyme exfoliation, extractions and a personalized mask.
[$132– $135]
HydraDerm
As Changes' most effective facial, this treatment removes dead skin cells, purges impurities, and bathes skin with hydration using a dynamic blend of antioxidants, peptides, and hyaluronic acid. Experience transformational, instant, no-downtime results for all skin types.
30 minutes [$209]
HydraDerm Deluxe
Enhance the benefits of our HydraDerm treatment by adding lactic acid exfoliation, micro-current facial toning, and LED light therapy. Complete with a Growth Factor serum to increase collagen and elastin production and reduce visible aging.
60 minutes [$299]
Changes Esthetician Recommended Exfoliator
Changes Express Facial Treatment
30 minute customized service to focus on the immediate needs of well-maintained skin. Great intro to developing a skincare regimen, or for those with limited schedules.
[$89 – $92]
Express Teen Facial
This 45-minute service is perfect for combating the challenges facing teen skin. The skin is cleansed, extracted, masked, hydrated and protected. For teens only.
[$89 – $92]
Purifying Back Treatment
A relaxing personalized back facial to exfoliate the skin, refine the pores and help to heal back acne for the ultimate in grooming and beauty.[$120]
Blueberry Peel
This refreshing antioxidant peel combines a gentle acid with active blueberry extracts to lightly exfoliate the skin without visible irritation. An exceptional blemish treatment, this superficial peel smoothes away surface impurities and invigorates the skin for a clear, youthful glow.
Peel only [$87] 
Peel with facial [$160]
Pomegranate Peel
This peel stimulates cell turnover, removes dead cells and increases natural moisture in your skin using powerful antioxidants, enzymes and L-lactic acid. Excellent for uneven skin tone and sun damaged skin.
Peel only [$98]
Peel with facial [$170]
Benefit Peel
Nourishing antioxidant peel for all skin types. The best all-around peel available for hypersensitive, aging and breakout-prone skin, Benefit Peel delivers vital nutrients deep within the skin's layers to gently stimulate collagen production without excessive peeling. Highly concentrated with vitamin C, this potent antioxidant peel is even gentle enough for those facing rosacea.
Peel only [$130]
Peel with facial [$190]
clarity Peel
Clarity Peel is a multi-tasking Exfoliating and Clarifying Treatment that gently helps clarify the appearance of skin by lifting away pore-clogging impurities and encouraging healthy skin renewal for a softer, more vibrant-looking complexion. Formulated with a powerhouse of cutting-edge retinoids, 2% Salicylic Acid and botanical ingredients, Clarity Peel adds a burst of balanced hydration to the skin while helping to minimize the appearance of acne for a complexion that looks vibrantly renewed.

Peel only [$160]Peel with Facial [$220]
D-Tox Peel
A very effective medical-strength treatment for all grades of acne, oily, impure skin or enlarged pores. A synergistic blend of chirally-correct acids that work deep within the skin to fight bacteria, heal acne lesions and gently resurface skin texture.
Consultation required.
Peel only [$165]Peel with Facial [$225]
Benefactor Peel
Gentle yet effective treatment for aged and premature aging skin, photo damage and/or blemished skin. This peel stimulates cell renewal, removes dead skin cells and softens skin. Utilizes 25% L-lactic acid, fruit enzymes and rich in antioxidants.
Consultation required.
Peel only [$165]Peel with Facial [$225]
Timeless Peel
This medium depth dermal peel dramatically reduces the visible signs of aging. Incorporating 30% AGP Complex(retinol) and 20% L-lactic acid, this effective age-management peel brings back healthy young cells, removes layers of dead skin, retextures, and increases moisture content. Perfect for large pores, sun damage, acne scars, premature aging and hyper-pigmentation.
Consultation required.
Peel only [$250]Peel with Facial [$299]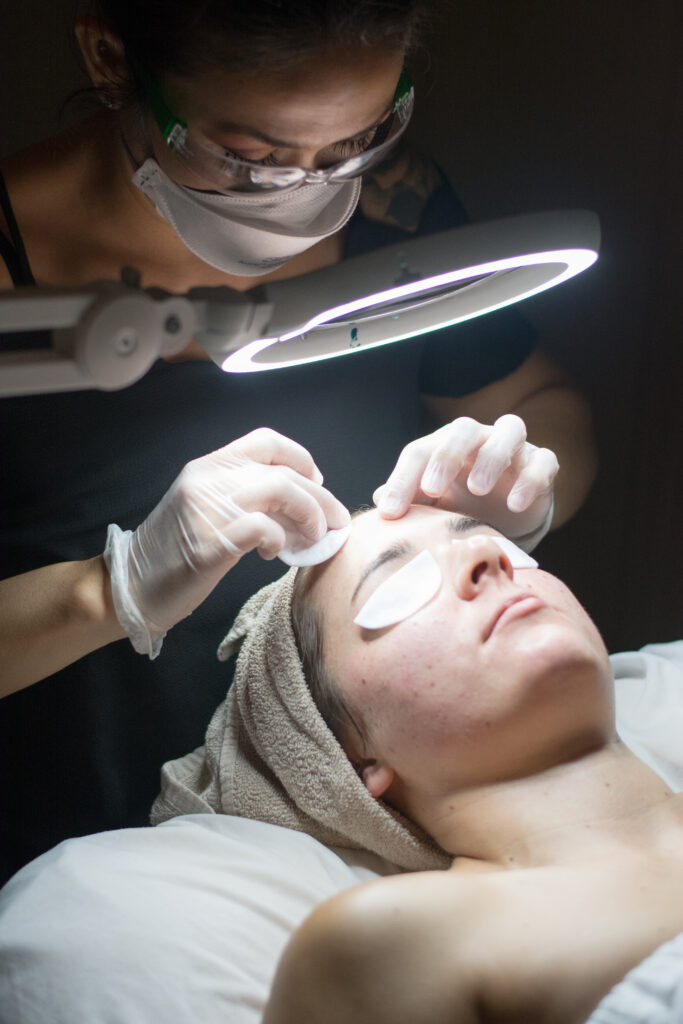 Rx Timeless Peel
This peel is the medical-strength version of our Timeless peel using 40% AGP Complex(retinol) and 25% L-lactic acid.
Consultation required.
Peel only [$270]Peel with Facial [$309]
Essential Peptide Peel



Manage the visible signs of aging with a blend of potent peptide and stem cell technology to reveal smoother, younger-looking skin. This gentle, metabolic treatment offers exfoliation with Lactic Acid and Retinol to help reduce the look of aging skin and to help unveil a brighter and suppler complexion. With the addition of Raspberry Oil, which is known to naturally absorb UV radiation, this treatment also helps protect the skin from future damage post treatment.
Peel only [$165]
Peel with Facial [$225]


deep sea Peel



A non-acid, chemical-free peel that utilizes manual exfoliation to resurface the skin, lifting away stubborn pigmentation and softening the look of acne scarring. Not recommended for sensitive skin.
Peel only [$270]
Peel with Facial [$309]
This was my first time receiving a facial at Changes spa and salon . I was immediately impressed with the ambiance and size of the facility. Do not let the outside fool you it is massive once you get inside and they offer everything you could dream of massages, facials, hair and nails. My esthetician was Ashley , very friendly and relaxed . She listened to me and choose a facial suited to my skin type and issues . The facials include a hand, neck and foot massage as well -so relaxing and my skin feels amazing 🙂 I will definitely be going back for more pampering in the future !

-Amy