This Year Changes is Celebrating it's 35th Anniversary!
We're humbled and thrilled to recognize this milestone, but more than anything we're grateful for the opportunity to acknowledge and celebrate those who have been instrumental in making it possible.
Marilyn A.
Client since 2007 | Napa Valley
Marilyn lives in Napa Valley, happily married to her high school sweetheart and has been an educator for the last 31 years.
We asked Marilyn to describe her first experience at Changes:
"When I first stepped into Changes the Fall of 2007 I needed a change, something different. I did not know any of stylists there, and lucky me, because I was assigned to the amazing Master Stylist Ariana! Back then I had longer hair, blah, and poor coloring! I did not know what I wanted, but Ariana just asked me to trust her!
I loved my haircut and color that she gave me! I walked away with a shorter bob, highlights in my hair and a lovely caramel color to compliment by darker hair. It was a magical moment and I have been with Changes and Ariana ever since!"
What Marilyn has to say about her stylist, Ariana: 
"Ariana is not just my stylist, but my friend and confident. I am always greeted warmly like an old friend. Ariana is a creative and highly skilled and understands the growth patterns in my hair and what adjustments are needed. (if Ariana is absent), I have been seen by Jasmin and Alejandra too, and they are equally amazing!"
Ariana on occasion shares her special getaway with her daughter Arielle.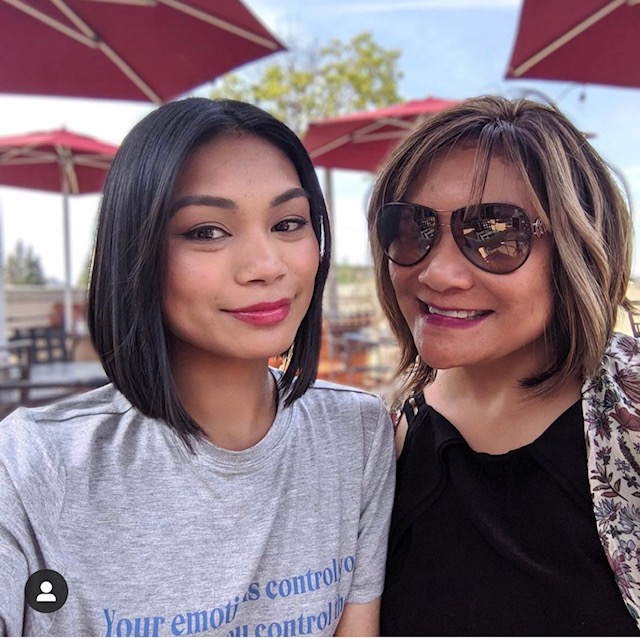 Arielle A.
Client since 2012 | San Fransisco
Arielle has been coming to Changes since she was 14 years old (she is 27 now) because it became her mother's (featured above) go-to salon. Now, she come to Changes to refresh and recharge herself!
Have we been a part of any big days for you?

"I have gotten my hair done throughout high school and college at Changes. Every dance, prom, and my graduation. I always know I am in good, capable hands here. " 
Do you enjoy coming to Changes with anyone – or is this your "me time"?

"I live in San Francisco, so when I come to Changes it is a day for me and my mom to get pampered together. We like to relax in the aqua terra room and catch up before our services. One of us will get our hair done while the other will get a manicure/pedicure, and then we switch!" 
What services have you enjoyed at Changes – tell us about why you loved them!

"I have mostly gotten my hair done at Changes. I love my hair appointments because they each start with a brief consultation before moving on to the hair wash. Ariana always throws in a little scalp massage which totally relaxes me. Ariana knows that no matter what I decide to color my hair next, I always want to keep my hair as healthy as possible. When she colors my hair she gives me great advice on what I should expect and the healthiest way to transition my color. " 
Nicole K.
Premier Level Stylist – Learn more about Lauren here.
What made you apply to Changes?

"The reason I applied to Changes was because my dad who did business with Bonnie, told me this is the place to work. He was so right! I loved everything about this place, the space was beautiful, the people were warm and inviting , and Bonnie's involvement in the community really drew me to here. " 
How do you feel about the education you have received while at Changes?

"When I first started here I was amazed at the program I received during my time assisting. Since becoming a stylist here I have been to the House of Bumble in New York a couple times, Vidal Sassoon in SF, Wella Studio in Burbank, Bumble Live in Hollywood, and met some of the most incredible people in the industry. I have had so much support and my training wouldn't have been possible without Changes Support! " 
What makes you love your job at Changes?

"I love working at Changes because we really are a family. We genuinely care about each other and all work very well together to support one another and take care of our guests as a team. I met one of my best friends working here! Our hair team is a group of friends, and I enjoy time spent with everyone." 
What do you hope for Changes for the next 35 years?

"I hope that for the next 35 years, we continue to grow our business, and care for the community. I have loved being a part of my clients lives, good days, hard days, big days. Being able to give people a peaceful space to rejuvenate and take care of all their beauty needs and pampering. That's what Changes is all about. " 
Cristal
Client since 2019 | Pleasant Hill
Cristal lives in Pleasant Hill, and is new to the area! She just moved here this year, and has been a client at Changes for about 7 months. She enjoys working out, traveling, getting into nature as much as I can, reading, Cristal is a huge self care advocate so in her spare time she tries to make time for bubble baths, mediation, journaling and other mindfulness practices. She also loves hanging with her two kitties! 😻
What services have you enjoyed at Changes – tell us about why you loved them!

"I get my nails done at Changes! Everything about the experience is enjoyable 🙂 The nail room is relaxing and quiet, so I feel like I am treating myself like a queen, and I love nail art, which always comes out SO beautiful!" 
Tell us about the technician(s) you visit on a regular basis and why you continue to see them.

"Amber does my nails! She is so lovely to talk with, and she always does everything she can to make sure I am MORE than happy with my nails and the overall experience. I LOVE HER! " 
How do you feel when you are at Changes?

"Taken care of 💓" 
Do you enjoy coming to Changes with anyone – or is this your "me time"

"It's definitely my ME TIME!It's my time to unplug when I am at Changes. I disconnect from my phone and the outside world, and really just enjoy getting my nails done and talking with Amber. I usually walk around the area afterwards, bc when I make my appointment it is a chance for me to take the day to take myself out on a date!"
Thank You For Celebrating With Team Changes!
The Community joined us November 8th from 5:30-8:30 pm and spent the evening celebrating the journey gone by as well as the endless opportunities ahead. All proceeds benefited STAND!
Learn More
Latest posts by Felicia Pulley
(see all)